I take Roadtrip Snacks very seriously. Have you ever been stuck in a car for an extended period of time with children hitting peak sugar-rush? Take my word for it, you don't want to be there. EVER!
We've been taking family roadtrips since Stella was 2 months old. The key to a successful roadtrip with kids is really very simple. Ensure you have ample entertainment and snacks. Lots and lot of snacks!
Not just any snacks however, a good mix of sweet, savory and of course healthy snacks is important. The last thing you want is children strapped into a seatbelt going through all the energy and emotions that come along with a sugar-rush. Sounds like a modern day horror movie is you ask me.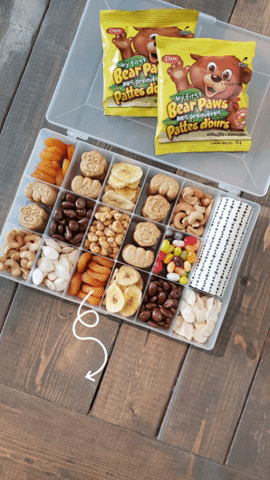 Dried Fruit: our ultimate favorite snack, fruit! Fresh, freeze-dried or dehydrated, no family roadtrip is complete without.
Nuts & Seeds: another great option if allergies are not a concern, are nuts and seeds. Healthy, filling and crunchy. The ideal roadtrip snack.
Cookies: our families soft spot is a good cookie. but finding one that's low in sugar and good for the whole car can be hard. Bear Paws to the rescue.
Crackers: pairs well with fruit, crunchy and fairly mess-free. great for those long treks with little stopping.
DID YOU KNOW?
Bear Paws has a new cookie on the shelves? It's called My First Bear Paws Cookie and it's changing everything you thought you knew about cookies. With 5 grams of sugar per serving, containing no artifical colours, flavours or sweeteners and peanut free. Your little ones can officially snack better.
Not all of baby's firsts moments we're picturesque. Shall we talk about baby's first fall, first cold, first sunburn?
Available in a box of single serve mini bags or a stand-up resealable bag, ideal for home snacking. Bear Paws is ensuring your baby's firsts are the best they can be. Bears Paws is making #betterfirsts possible.
BABY'S FIRST ROADTRIP
We've traveled in a car as a family to places like Whistler, Cultus Lake, Harrison Hot Springs, Tofino, Seattle, Grand Mound, Olympia, Portland, and Cannon Beach. While we still have many more family roadtrips on our bucket list, we feel like we've made a pretty good dent considering Sofia and Stella are 7 and 2.
I've heard so many people say they're holding off traveling with their kids as babies and toddlers for fear of the unknown. What if they cry on the plane, what if they hate being in the car for that long, what if they have a meltdown. WHAT IF I HAVE A MELTDOWN? As these are all valid concerns, some of the very ones I had myself. You must remind yourself one thing.
You are not the only parents traveling with kids. Your baby is crying on the airplane? This wouldn't be the first time this happened, don't worry yourself over it. You baby hates long car rides? Plan a family roadtrip with hourly stops. Make it fun! Take a instax picture at every stop and hang them in the car as you go. A successful family roadtrip was not one done on a whim. Plan ahead and you'll be golden.
Just don't forget the snacks!
***
Hey! Are you following us on social media?
Facebook // Twitter // Instagram // YouTube // Pinterest